NOTTINGHAM COCKTAIL CLASS 
by TIPSY PARTIES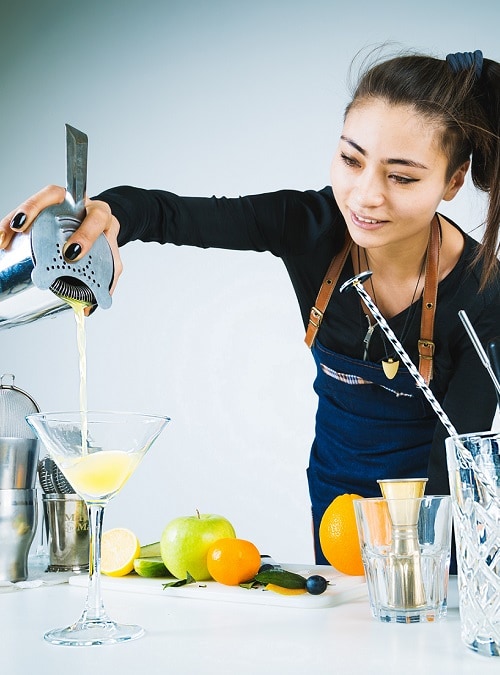 NOTTINGHAM COCKTAIL CLASS
In the heart of Nottingham, our Nottingham Cocktail Class is designed to be a fantastic 2-hour experience for groups of up to 50 people. With our fully mobile setup, we bring the cocktail-making magic right to your chosen venue, whether it's an Airbnb, function room in a bar, rental spot, or even your own home.
Join our expert bartenders for an engaging cocktail-making class where you'll learn the art of mixology and create delicious cocktails. Dive head first into the world of spirits, mix, blend, shake and stir your way to crafting remarkable drinks that your guests will love.
Pick four beverages from our diverse menu, capturing your taste for both age-old classics and today's favorites. And for those who prefer non-alcoholic options, we offer a range of mocktail choices.
The package includes all the necessary equipment, glassware, and mixers to complement your evening of mixology learning. No need to worry about the details; we've got it all covered.
For an immediate quote for your Nottingham event, just tap the "instant quote" button below. You'll quickly get a response via text and email. Our  team of professional mixologists are here to provide you with an unforgettable and fun-filled experience. Don't miss the chance to create memorable moments with friends and enjoy delicious cocktails at our Nottingham Cocktail Class. Cheers to an exciting evening of mixing and sipping!

 equipment for everyone

real glassware included

 make 4 cocktails each

2-hour group activity
"We opted for the Nottingham cocktail workshop for my friend's hen celebration. Dylan made it unforgettable. His wit and knowledge about cocktails were top-notch, and she added zest with entertaining games. The whole session was a hit, and we're eager to book once more in the future!"
"We organized the cocktail crafting session at our Airbnb in Nottingham for my best friend's hen party. Being unfamiliar with mobile services, I was unsure of what to expect, but it exceeded our expectations. We had the liberty to pick our drinks from an impressive array, with the espresso martini emerging as our top pick."
Had a great time at our cocktail class in Nottingham. The mobile setup was handy, fitting perfectly into our Airbnb space. The mixologist knew his stuff and taught us a lot. We made some classic drinks and had a good laugh. Would recommend for a relaxed evening with friends
"We truly enjoyed ourselves! We set up the cocktail session at our home, and our mixologist was both skilled and approachable. The class was a hit, with easy-to-make yet delicious drinks. Considering another booking next year to explore more drink options. The cost felt just right. Big thanks!"
A little bit about Nottingham…
Nottingham is a captivating city renowned for its deep-rooted history and vibrant culture. This city, which boasts ties to the legendary figure of Robin Hood and the ancient Sherwood Forest, holds secrets whispered through the ages. Legend speaks of hidden treasures concealed within the depths of Nottingham Castle by outlaws of old! Travelers from various locations around the globe come to explore its medieval landmarks and immerse themselves in tales of heroic outlaws.
When it comes to planning a hen party, Nottingham offers an array of exciting activities. For those seeking adventure, you can embark on a thrilling adventure at the Nottingham Castle, reliving the legends of Robin Hood and discovering the rich history of this historic site. For a more relaxed afternoon, indulge in a leisurely stroll through the town and the picturesque streets of the Lace Market, where charming boutiques, bars and cafes await.
And of course, no hen party is complete without delicious cocktails! Nottingham provides the perfect blend of adventure and relaxation, making it an ideal spot for unforgettable hen parties. You can choose to start your celebration with an immersive cocktail making class anywhere in Nottingham, where our skilled mixologists will guide and teach you through the art of crafting delightful drinks. The mobile setup ensures that we can bring the party to your chosen venue, whether it's an Airbnb, a rental spot, or even your own home.
So, gather your friends, explore Nottingham's medieval charm, embark on thrilling adventures, and top it all off with a Tipsy Cocktail Class. Nottingham promises a memorable experience filled with history, food, adventure and of course, our unique tipsy style cocktails to toast to your special occasion
Check out some of our other cocktail making classes & offerings available in Nottingham…