TIPSY BARTENDER HIRE
by TIPSY PARTIES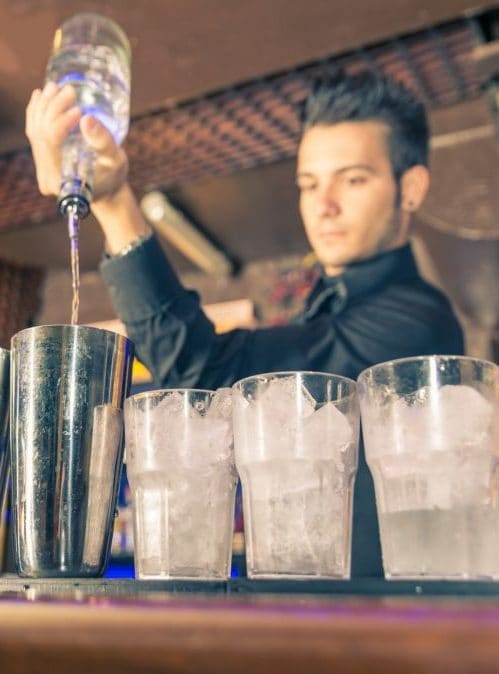 The tipsy bartender hire is a 2-hour cocktail service where we offer just the bartenders for hire.  The cocktail bartenders will bring along all of the professional cocktail equipment required to make your favourite cocktails for your party & you normally just supply the ingredients & glasses.  We also provide assistance with planning your cocktail menu & we will provide a full shopping list for all the ingredients for the cocktails you have selected.  You can add extras such as bar hire & cocktail glass hire to this service for an additional fee.

we make the cocktails for you

full shopping list provided

 choose the cocktails you want

2-hour service
"We hired a cocktail maker from Tipsy Parties for my mum's birthday.   The mixologist was very professional and the cocktails were just perfect!  The option to add glass hire made things so easy for me.  The admin team were also very easy to deal with and they provided me with a shopping list for the cocktails I chose.  I will definitely recommend to others.  Thank you "
We hired 2 mixologists and the mobile bar for our 25th wedding anniversary. The 2 mixologists Andrew and Hannah were excellent, they arrived on time and made cocktails all night!  The pricing was fair compared to other mobile bar companies near me, I'd highly recommend them.
We booked the tipsy bartenders hire for my daughter's 18th.  We hired the mobile cocktail bar and the bartender made cocktails for 2 hours.  Booking was really simple online and I liked that I could choose my cocktails online and the shopping list was sent to me for the cocktails I chose.  Thank you for the amazing service.
We wanted 2 bartenders to hire for our daughters hen weekend and used tipsy parties.  We booked for 3 hours and chose the cocktails we would have served.  The 2 bartenders Laura & Jason were brilliant and worked really hard to make sure the party was a success.  Thank you very much for making this a memorable night!
We booked tipsy parties after looking for bartenders for hire in Glasgow.  Joe was our cocktail bartender and made us delicious cocktails, we hired the mobile bar  and he even did a bit of flair as well!  I'd highly recommend for a house party!