Hen Party Cocktails
Hen Party Cocktail Guide by TIPSY PARTIES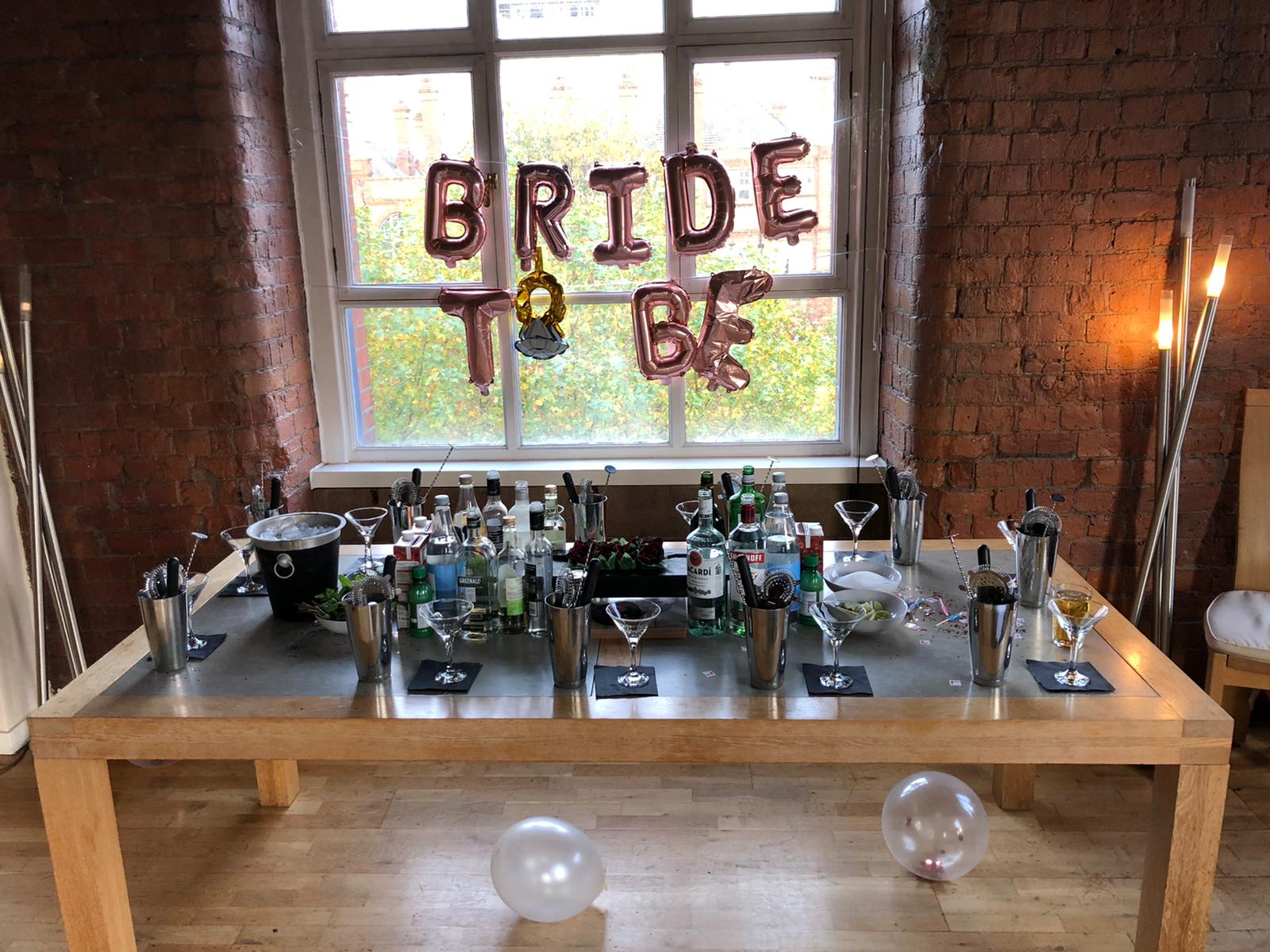 Top 11 Hen Party Cocktails (because 10 wasn't enough!)
We love hen parties! We are a mobile cocktail company in the United Kingdom founded in 2013. We've attended literally thousands of hen parties over the years so we know a thing or two about hen party cocktails!
We put this guide together to help you plan your drinks for your hen weekend. If you want a professional mixologist to make them for you then you can get an instant quote sent immediately by text or email to you. In no particular order, here are the most popular and fun hen party cocktails your bride-to-be is sure to love!
Cosmopolitan
The Cosmopolitan, or "Cosmo" for short, was made famous by the hit TV show "sex and the city" and is truly loved by hen parties across the UK. A potent vodka drink, its deep pink colour makes it stand out!
We add vodka, triple sec (an orange liqueur), lime juice and cranberry juice to a shaker and shake it with ice cubes before straining it into the iconic martini glass (you can optionally double strain, which means to strain through a second sieve; this removes any small pieces of ice).
Its flavour profile is strong and dry (it's naturally low in sugar) and will be noticeably less sweet than other cocktails on this list like the Sex on the beach. Garnish with some orange peel or a lime wedge.
Sex on the beach
Sex on the Beach is perfect for a girls' night or hen party and is an all-time classic hen party cocktail. Fun and cheeky in name and also in flavour. A few different cocktail recipes exist but we believe in the classic combination of vodka, peach schnapps, orange juice and cranberry juice is still the best.
We garnish this with a cute umbrella and an orange slice for tropical vibes.
Pornstar Martini
The pornstar martini is a modern-day classic but almost synonymous with hen parties. Created in 1999 in London. Vodka, sweet passion fruit puree or juice combined with dry sparkling wine was an instant hit and is one of the most popular hen party cocktails today.
Why is it called a porn star? It might have something to do with the amount of passion that goes into making it!  Serve in a martini glass or a coupe glass and garnish with 1/2 a passionfruit.
What should you do with the shot of Prosecco? Well, that's up to you!  If you find the drink too sweet then adding the Prosecco will make it less sweet if you love sweet drinks then maybe have it as a chaser.
Strawberry daiquiri
A very popular cocktail generally speaking but one of the best hen party cocktails! Even better for a summer hen party when the strawberries are seasonally fresh.
Add rum, fresh strawberries, white rum and sugar syrup to a mixing glass or tin and muddle thoroughly until all the strawberries are well muddled then add to a shaker and shake with ice cubes before straining into a martini glass.   It's a simple but delicious shaken beverage served in a martini or coupe glass. Garnish with half a fresh strawberry.
Mojito
The mojito is an all-time classic cocktail, although it's less stereotypically a hen-do cocktail it's just an absolute classic. It's also a great fun drink to learn how to make in a mixology class as there are so many steps and it's quite challenging to get right so our pro tips will help you to up your mojito game!
This rum classic is built in a hi-ball glass with lime juice, rum, caster sugar, and mint. We add crushed ice to chill the drink rapidly and texture. Garnish with a mint sprig.
If you feel like a mojito is a bit too "obvious" we have 3 different mojitos on our menu to really mix things up the classic rum mojito, an English Mojito (featuring gin and lemon juice in place of rum and lime juice) and a fruit passionfruit Mojito. If you want to ramp up those hen party vibes try swapping the soda top for a champagne top for a millionaire mojito.
Espresso Martini
Another modern-day classic, perfect for the big night! The caffeine hit will keep your hen party going all night! Famously invented in 1983 by Dick Bradsel for a supermodel customer who requested a drink which would wake her up and mess her up.
This favourite hen party cocktail is a strong, short vodka-based drink. It can be a little bit of a marmite cocktail with people generally loving it or hating it, so if you are planning a hen party it's good to check ahead with the group to make sure everyone likes it.
This drink is typically served in a coupe or martini glass and garnished with 3 coffee beans. Sugar is optional and can be added according to taste.
French Martini
One of the most underrated hen party cocktails on the list, the french martini is a fruity short cocktail garnished with fresh raspberries.
We add Chambord, pineapple and vodka to a cocktail shaker and shake with ice vigorously to create the desired consistency for the frothy head upon which our raspberries sit.
Margarita
The first and only tequila cocktail that makes the list! Tequila is a unique spirit and the main ingredient in a margarita. The margarita is another iconic cocktail and frequently tops the list of most popular cocktails .
This is a strong drink with more alcohol than mixers. The tequila gives it a nice kick and also combines lime juice and triple sec (an orange-flavoured liqueur). Serve in a tumbler, martini or margarita glass. To garnish place salt around the rim and pop in a fresh fruit lime wedge.
Kir Royale
What hen party cocktail menu would be complete without at least one sparkling wine cocktail? Kir Royale is a prosecco or champagne-based cocktail with creme de cassis (a blackcurrant-flavoured liqueur) served in a champagne flute or coupe glass and garnish with fresh raspberries or even fresh sugared raspberries if you are feeling fancy.
If your bride-to-be isn't a blackcurrant fan and you still fancy including a champagne cocktail then a bellini (peach puree and sparkling white wine) or even a mimosa which is simply orange juice (or grapefruit juice) & prosecco or champagne.
Woo Woo
A fun simple cocktail which tastes delicious. It's a close relative of the sex on the beach (just swap the orange juice out for more cranberry juice and voila you have a Woo Woo!) so it's an easy one to add as an extra cocktail to your menu without buying lots of different ingredients.
Made straight into a hi-ball glass, just add ice to the brim then add the vodka, peach schnapps and cranberry juice, stir and then garnish with an umbrella and lime wedges (or other fresh fruit).
Tom Collins
We had to have a gin cocktail on the list and we went for this classic drink! Gin, lemon juice, sugar and soda combine in this classic which dates all the way back to the 1800s.
Best to serve in a balloon glass with a lemon wedge and maraschino cherry.
Funny Hen Do Cocktail Names….
Why not rename the cocktails for the hen party or personalise them after the bride-to-be.  You could also go for the Bride's Bouquet, Tipsy in Love, Vodka n' Veil, or the Champagne Campaign. And don't forget to add a touch of humor to your garnish and serve with laughter!
You'll Need a cocktail shaker and…..
If you're making the hen party cocktails yourselves you will need to get a cocktail shaker set, and some ice cubes (get a mix of cubed ice and crushed ice or just get some ice cube trays). Some of the simpler cocktails can be made "punch" style in a large mixing bowl. You'll also (ideally) want a selection of different glass types so the cocktails are served in the appropriate glass.
Or leave it all to us…..
If you want to leave the hen party cocktails to the professionals then we have a range of different packages perfect for hen parties from our topical cocktail class to our gin-tasting class or if you want to stick to the favourites our tipsy cocktail class is perfect for you.
All the hen party cocktails above are available to make in our tipsy cocktail class. Prices start from £22 per person.