BATH COCKTAIL CLASS 
by TIPSY PARTIES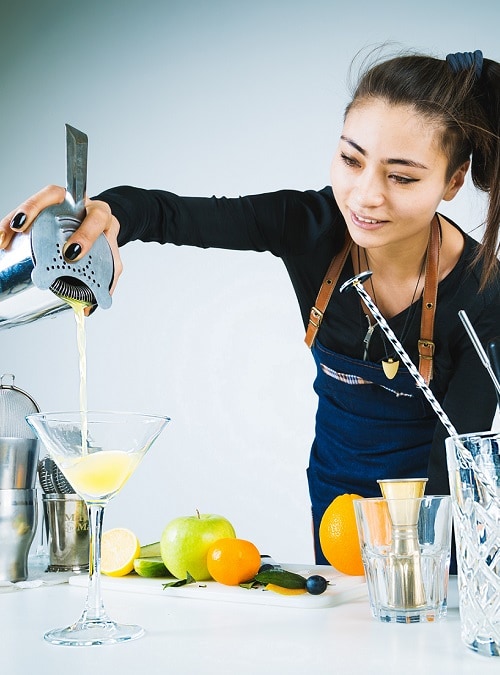 The Tipsy Cocktail Class is suitable for parties of up to 50 guests anywhere around Bath. Our Bath cocktail masterclass is fully mobile and we bring everything with us to your Airbnb or rented accommodation in Bath. Get hands on & learn how to make four cocktails each, you will use professional bar equipment with guidance from your mixologist to mix, shake, muddle or stir four delicious drinks. You can choose which four cocktails you make from our menu. Our menu includes a mix of classic cocktails and contemporary favourites.
The cocktail making masterclass usually includes some fun drinking games although we can also offer a more formal lesson if requested. Our cocktail making package includes everything you will need for the class from the equipment, cocktail glasses & all the ingredients, we even provide the ice! You can get a quote for your party in Bath in under 30 seconds by clicking the "instant quote" button below. Your quote will be sent instantly to you by text and email.

 equipment for everyone

real glassware included

 make 4 cocktails each

2-hour activity
"We booked the Bath cocktail masterclass for my friends hen.  We had a brilliant time with Maddie. She kept us all laughing and was knowledgeable about the cocktails and kept us all entertained with the games too! The whole experience was great and we would 100% book again!
We did the cocktail making class at our airbnb in bath for my best friends hen do. I didn't know what to expect with it being a mobile service but we weren't disappointed. We chose the drinks we would make from a fantastic selection, our favourite was the espresso martini.
We booked the tipsy cocktail making class in Bath, we considered doing a class in one of the cocktail bars but we thought it would be good to get the party started at home before heading into Bath for the night. Our mixologist was Dan, he was very knowledgeable and played some fun games, the drinks too were delicious.
We had such a good time!   We booked the cocktail masterclass at home and our bartender was very knowledgeable and friendly. The cocktail mixing class was fun and the cocktails were delicious and very easy to make. I will definitely be recommending and may even book again next year and see if we can make different drinks. I thought the price was very reasonable too. Many thanks!
A little bit about Bath…
Bath is beautiful city famous for its rich history and culture. Bath is known for its natural hot springs and Roman baths which are said to have healing powers! Legend has it that there is treasure trove filled with gold and jewels hidden under the Roman baths by the Romans themselves! People from all over the world come to soak in the warm waters and admire the ancient Roman architecture. Its an amazing location for hen parties and the perfect destination for a little pampering and of course cocktails.
Check out some of our other cocktail making classes & offerings available in Bath…