TIPSY COCKTAIL CLASS 
by TIPSY PARTIES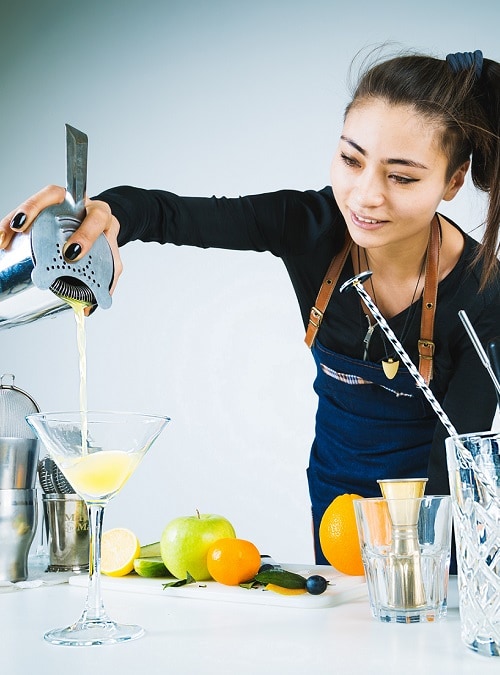 The Tipsy Cocktail Class is suitable for parties of up to 50 guests anywhere in the UK.  The mobile cocktail making class covers the basic construction of cocktails, bartender equipment & cocktail making techniques.  After a demonstration on how to make each drink, you will use professional bar equipment with guidance from our bartender to mix 4 delicious drinks.   You can select the four cocktails you make from our menu with a range of classic cocktails & modern day favourites to choose from.    The lesson usually includes some fun drinking games although we can also offer a more formal lesson.   Our quote includes everything you will need from the equipment, cocktail glasses & all the ingredients, we even provide the ice! Our cocktail making classes can be carried out at your home or a rented venue. They are the perfect activity for hen parties, birthdays, or even corporate events.

 equipment for everyone

real glassware included

 make 4 cocktails each

2-hour activity
"We booked the mobile cocktail making masterclass for my friends party in Liverpool,  our mixologist was Tom who took the lead, showing us how it was done and then we all made the drinks.  It was really hands-on and a great activity for a hen do with lots of games.  Each of the 4  delicious cocktails used a different technique which kept things really interesting.  The recipes were easy to follow, they tasted great and the Mojito was the best one I've ever had."
We did the mobile cocktail making class in Cardiff and we thoroughly enjoyed our session led by Jorge. He was entertaining and knowledgeable and allowed us to have a laugh and learn at the same time! The cocktails were delicious, something for everyone and extremely good value. Thank you tipsy parties, we had a lot of fun drinking cocktails and playing games, I would certainly re-book another event in the future.
Excellent service from booking the event to the actual cocktail making party which was one of the best cocktail making classes I've done.  Our mixologist was Joe, who came to our house in London. He taught the cocktails in a fun way to help us improve our cocktail making skills and the games played in between made the event really fun. Joe interacted very well with all our guests, and the mocktail drinkers we had were included in a natural way so they didn't feel at all awkward.  We also loved the little competitive cocktail making element Joe did at the end, we can't thank you enough Tipsy Parties, you really made our daughter's 18th birthday party!
I was looking for cocktail classes near me and didn't realise a mobile one was an option!  We booked the tipsy cocktail masterclass at home (in York) and picked our favourite drinks to make,  our bartender Lewis was very knowledgeable and friendly. The session was so much fun and the cocktails were delicious and very easy to make. I will definitely be recommending it and may even book again next year and try one of the different cocktail masterclass packages.  I thought the price was very reasonable too. Many thanks!
"I've done a few cocktail classes before at cocktail bars, but this was definitely better and more convenient too! We booked the activity in Bristol for a team bonding event, we all made our own drinks including our favourite the espresso martini! Our cocktail barman Dan was brilliant, really enthusiastic and knowledgeable."
I recently had an amazing cocktail making experience with Tipsy Parties.  Josh arrived at my location with everything we needed, including all the ingredients, tools, and glassware. The cocktail masterclasses was a highlight of the weekend, and we learned how to make classic cocktails like the mojito, as well as some new and exciting concoctions.

Overall, Tipsy Parties was an absolute hit at our party! The welcome cocktail they created was the perfect way to kick off the festivities, and the mobile bar and cocktail course they provided made for a memorable and entertaining experience. If you're looking for a fun and unique activity for your next event, I highly recommend Tipsy Parties!
We put on a cocktail workshop with tipsy parties at our office in Manchester, being a corporate do we did just a mocktails class which was fantastic, we had non alcoholic spirits and the mocktails tasted amazing. I would highly recommend Tipsy Parties!